Saturday 14th Jan
Instead of a training session on Saturday the management decided a couple of friendly matches against Football Fitness Academy based at Loughborough College would be great experience for our young lions.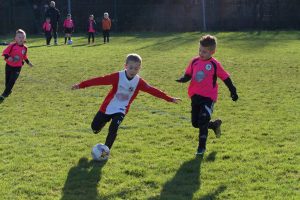 As always we were treated exceptionally well by our hosts and made to feel very welcome.
Playing 15 minutes each way the two matches kicked off and the original signs were good. Both games were close with only a single goal in it at half time on each pitch. The Foxes game continued in that way for a tightly fought competitive match which ended in a thoroughly entertaining draw.
The cubs showed much heart and never gave up even when their legs felt heavy and the boggy pitch was weighing on their abilities and stamina, but could not overturn a half time deficit. Despite much vocal encouragement from the travelling fans the lads were undone but can be extremely proud of themselves.
Sunday 15th Jan and a league fixture for some of our lads at home against Thurmaston.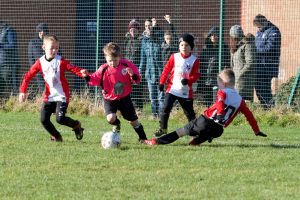 The rain was pouring down but as we're learning with this group of lads, nothing will stop them playing.
With the home support moaning and complaining about the weather conditions their young soldiers took it in their stride and started at a cracking pace.
Well in the lead by half time Birstall always looked in control and with our fearless keeper maintaining a clean sheet throughout the outfield players were able to surge forward and secure a comprehensive and well-earned victory.
Birstall are marching on in the league and gaining experience with each match they compete in and growing in stature week on week. Well done the lads and bring on next weekend.
Sunday 8th January – Match Report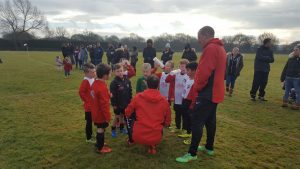 Time to work off 3 weeks of TV and chocolate and what better way to do it than an away day at higher ranked Coalville!
On a grey and damp morning our hosts made us feel very welcome for what promised to be a tightly contested close match. We weren't disappointed.
We were quick off the blocks and for a while performed as if there had been no break at all. After taking an early lead however, the legs started to go and the Brave Birstall Boys played with pure heart.
First quarter subs added some fresh legs and the boys defended their lead like Trojans and broke like City to extend it when they could.
A triumphant Birstall can now look forward to matches on both Saturday and Sunday against more stiff opposition but with their growing skill and confidence coupled with the strength of character they have nothing to fear. And as their sponsors we are greatly looking forward to it too.